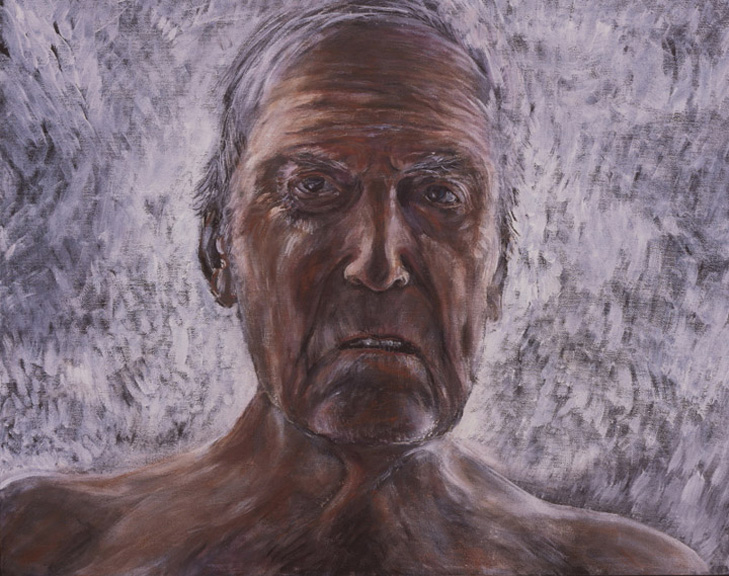 I needed to do this portrait of my father Robert Browning Haden, and it is the right time. He was born in 1919 at the beginning of the modern age in America. I have painted him anonymously in paintings before, but never in a portrait. He is a perfect subject. He has a strong personality, and his face carries the imprint of his life experience. I have been motivated to give homage to him through an individual portrait.

His father Julian Trousdale Haden was an artist who helped design projects of the TVA (Tennessee Valley Authority) during the 1930ís Depression. During WWII, my father participated in the Normandy invasion, landing on Omaha Beach a few days after D-day. He married my mother who is French, and gave me a transatlantic childhood. For almost two years my mother and I were separated from him when he was sent to Korea. He has worked hard during his life. Recently, he survived two difficult back operations that required a long convalescence. He is indomitable.

As I approached this portrait, I kept thinking about how Papa looked over his lifetime. I studied every photograph of him available to me. Since he comes by my studio every day, I studied his face anew and continued to do that while working on his portrait. A handsome man, I wanted to capture that as well as show the signs of time that now mark his features. We went swimming one afternoon and when he emerged from the water, I saw the face that I wanted to portray: a portrait stripped of the usual accouterments of status associated with traditional portraits, yet conveying a man of dignity and distinction.

I approach portraiture for my long interest in figurative painting. Figures are a core value in my works. These include family, friends, movie stars, people in advertisements, and unknown people I photographed, all thrown in together in scenes where something is about to happen. They are painted in black and white (gesso) on vividly colored scenes (sometimes somewhat abstract) with animals and lush vegetation. These virtual landscapes are all about contemporary concepts: privacy versus notoriety, globalization, the dilemmas and conflicts of contemporary existence. Engrossed in themselves, the figures play in a world of extremes where you might expect anything to happen. Sometimes they appear posed as if they were portraits of this generation.

So this is kind of my self revelation jumping off point regarding portraits, Portraits are posed figuration. But what is most important is who is doing the posing. Is the subject posing, is the artist inventing the pose, is the pose meaningful or an accidental glimpse of life that communicates on a personal level. It can be all of this, and I think that is why figuration and portraiture are so compelling and continue to be relevant in today's art.