Home | Artwork | About the Artist | Links | FAQ | Contact

THE

MPA
McLEAN PROJECT FOR THE ARTS
PRESENTS
POSTCARDS FROM THE REAL
ART WORKS BY
JOSEPHINE HADEN
AT THE EMERSON GALLERY

SEPTEMBER - NOVEMBER 2007






The 24 page exhibition catalogue (above) is available from the McLean Project for the Arts. It includes 33 color illustrations of the artist's recent work, and essays by Nancy Sausser, Curator, and Donald Kuspit.



Introduction by Nancy Sausser, Curator (Exhibitions Director, McLean Project for the Arts).

Essay by Donald Kuspit: "At Odds With It All: Josephine Haden's Paintings."


SCROLL DOWN TO SEE ALL PAINTINGS IN THE EXHIBITION.
---
In her first comprehensive local exhibit in many years, nationally known Arlington-based artist Josephine Haden exhibits large-scale paintings, which simultaneously evoke infinite space and intriguing allegorical vignettes. Using subtle but efficient compositional devices, she toys with perceptual expectations. Blending open sky, vast bodies of water and soaring vistas with magazine, vacation and animal imagery, she creates visual stories that ask as many questions as they answer. Like postcards from another time and place, these paintings offer viewers a glimpse into a world where imagination transforms the mundane and banal into the extraordinary and unexpected.

Nancy Sausser, McLean Project for the Arts News and Events, September 2007
---

Josephine Haden is an eloquent painter, a realist of sorts--I say "of sorts" because there's an aura of eeriness to her reality, however precisely (always precisely) rendered--but her images are also abstract, which no doubt adds to their uncanniness.

Donald Kuspit, 2007

---

Click on image to see the image in greater detail.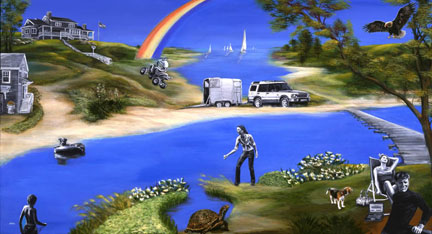 ---